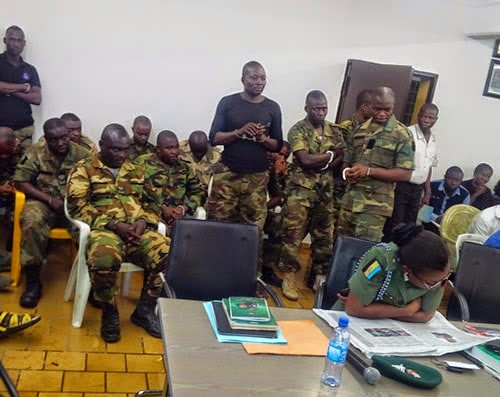 The Nigeria Military authorities last night sentenced 12 soldiers to death for mutiny. Four soldiers were also discharged and acquitted while one soldier was sentenced to 28 days imprisonment with hard labour.
The soldiers were arraigned before the court martial on a six-count charge of criminal conspiracy to commit mutiny, disobeying lawful orders and various acts inimical to military service.
The convicted soldiers are Cpl. David Musa, Cpl. David Robert, Cpl. Jasper Baido, Cpl. Mohammed Sani, L/Cpl. Friday Onu, L/Cpl. Yusuf Shuaibu, L/Cpl. Emmanuel Iganmu, L/Cpl. Stephen Clement, Priv. Andrew Gbede, Priv. Nurudeen Ahmed, Priv. Ifeanyi Anukabe, Priv. Alao Samuel, Priv. Alan Linus, Priv. Namaan Samuel, Priv. Ichocho Jeremiah, Priv. Sebastine Amah and Priv. Amadi Chukwudi.
One of the soldiers, Private Ise Ubong, was, however, discharged and acquitted, having been found innocent of all the charges.
The nine-member all-military court martial also found the soldiers guilty of insubordination, use of abusive language and levelling of false accusation against their superior officers, among others.
They were found guilty of attempting to kill their erstwhile General Officer Commanding (GOC) 7 Division, Maj.-Gen. Ahmed Mohammed, by shooting at his official car between May 13 and 14, 2014.
The incident took place at the Maimalari Barracks, Maiduguri, in the course of the ongoing counter-insurgency campaign in the northeast.
The court also found them guilty of preventing the movement of some of their injured colleagues to hospital and obstructing the evacuation of their dead colleagues who were killed in an ambush on their way from an operation in Chibok, Borno State.
They were found guilty of three out of the six charges brought against them, which are conspiracy, mutiny and attempted murder of Maj.-Gen. Mohammed.
The court martial panel comprised Brig-Gen C. C. Okonkwo (president), Col T.S. Nurseman (judge advocate), Col T. O. Olowomaye, Col I. G. Lassa, Lt Col J. K. Feboke, Lt Col C. R. Nnebeife, Major I. Yusuf, Major T. A. Yakubu and Major A. E. Martins (waiting member).
The soldiers who perpetrated this near-act of mutiny, according to various accounts, were reacting in anger over the ambush attack they suffered in the hands of Boko Haram terrorists on their way back from an operation in Kalabalge during which about 12 of them got killed.
The few soldiers that survived the attack blamed their plight on the military hierarchy in the division headed by the GOC who, they said, had insisted that they must return to Maiduguri via a route they had earlier considered dangerous for them to take at night.
Some soldiers who shared the sentiments of the soldiers that carried out the shooting on the GOC said the victims and those that survived had pleaded to pass the night in one of the villages so that they could safely return to Maiduguri.
But those commanding the troop declined their request on the grounds that the GOC wanted them back to Maiduguri at all cost, a soldier who pleaded anonymity had said.