A battalion of Nigerian soldiers today took over the busy Lagos-Ikorodu Road in the Nigeria's commercial city of Lagos to protest the death of their colleague who reportedly died in an auto accident involving one of the public buses known as "BRT."
The soldiers assaulted commuters using the public buses and set at least for buses ablaze. Also, a security guard in the area was killed by the rampaging soldiers leading to a complete breakdown of laws and order in the area.
The activities of the soldiers also caused a huge road traffic meltdown leading to traffic snarling fro Ikeja to Yaba area of Lagos.
Eyewitnesses told Saharareporters that a soldier riding a power bike collided with a BRT bus along the Ikorodo-Lagos road and died immediately from the impact of the crash.
Several of the soldiers who belonged to an outfit called "OP MESA" immediately took over the area stretching from Onipanu, Palm Groove and Maryland bus stops band began forcing passengers to disembark from the buses before vandalizing the buses. Some passengers who sought to know what was happening were severely beaten by the rampaging soldiers.
As of the time of filing this report, the soldiers have burnt down at least 4 BRT buses and destroyed three others between Onipanu and Palm Groove.
Lagos State employees operating the buses have abandoned their buses and scampered into safety. One witness said a soldier picked up a big stone and hurled at the crowd to disperse those that gathered to watch the mayhem; they also attacked some women going about their daily businesses with sticks.
Nigerian policemen seen on the scene appear helpless as the soldiers continue the destruction of public properties, assaulting civilians, seizing phones, beating up journalist who came to cover their actions in the area.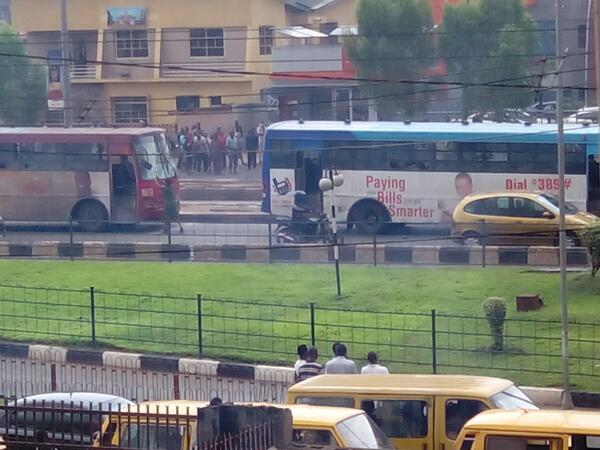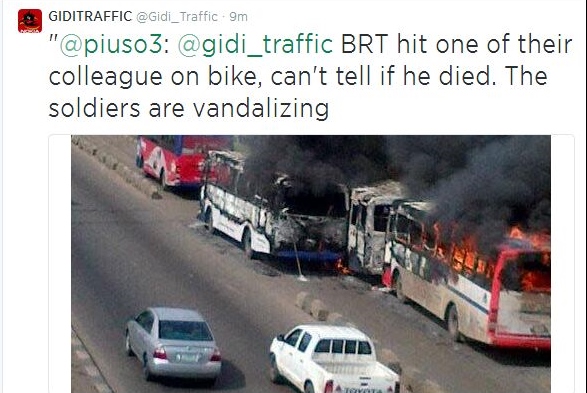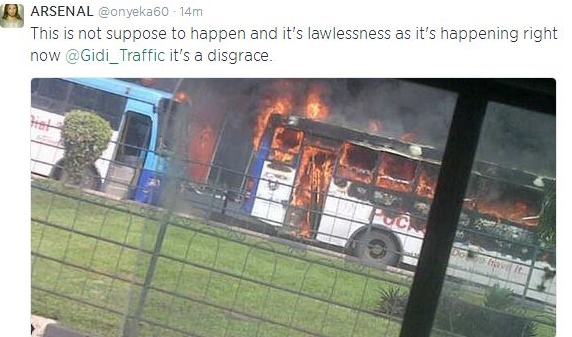 -

Saharareporters